Cakes For Culture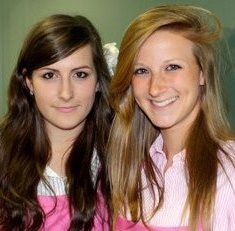 Emily George and Eve Towlson of Cakes for Culture are dedicated to putting smiles on the faces of all their customers!
In May 2011 Striding Out were asked by University of Liverpool to provide coaching for the finalists of their annual entrepreneurship competition, the Big Pitch.
All finalists had access to 5 coaching sessions with Striding Out coach, Denise Chilton to help them develop their business idea and prepare for their Big Pitch to a panel of judges including Striding Out's Managing Director, Simon Ireland Davies.
Finalists Emily George and Eve Towlson, both 21 are 3
rd
year Veterinary Science students and due to graduate as fully qualified veterinary surgeons in 2013.
Coming to study in Liverpool opened their eyes to the diverse communities and noticed that with so many celebrations St Patricks Day, Eid, Birthday parties and even Beatle day there always seemed a reason to party.
Both girls have a love for cakes. They share a house and cake baking was always used as a stressbuster after a busy day of studies.
They identified that there was a market to offer something unique and different. Shop bought cakes often disappoint, whether it be taste or limited choice available, they fail to make the grade.
So the girls launched Cakes for Culture. Catering for a wide range of diets, they provide, exquisite hand decorated cakes, tailored to any theme requested.
With no experience of setting up a business both girls commented that the coaching sessions had been invaluable and gave them a much clearer vision of what was involved in running a business.
The coaching helped them present an innovative and energetic pitch complete with cake which dazzled the judges and declared them winners, a first prize of £1,500.
Emily and Eve will be talking to the Liverpool Guild of Students to negotiate a stall from which orders can be placed.