Michael Furlong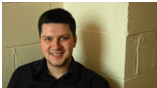 Michael Furlong
Started his own Business through the Stepclever Programme.  
What is your life experience?
 Born and raised in Liverpool near the football grounds and educated in a local Secondary School. My mum was a single parent and I am her only child.
I've had three jobs and from them I've learned social skills and sales skills. I also learned from my jobs the things I don't want to spend my life doing.
Any qualifications?
At school I gained 7 GCSE passes grade C and above. I went to college where studied for 3 'A' levels and gained a grade E in Business Studies.
I have now passed the level 2 ILM Certificate in Team Leadership  and level 2 ILM Preparing for Business Enterprise. 
What inspired you to start your business?
I'd been unemployed for 10 months and was approached in Everton Job Centre by a Striding Out Mentor. I signed up to the Stepclever programme and was assigned a coach. My coach introduced me to the idea of being self employed and I began to like this idea and wanted to explore it further. I did the ILM Preparing for Business Enterprise which helped me understand how I could run my own business. I was also introduced to networking events where I met like minded people and gained a support group as we help each other with ideas.
My Striding Out coach has supported me throughout this process.
How did you start up? What do you do?
I have applied for the Stepclever start up grant to buy my initial equipment. In the event that this funding is not available then I am seeking out alternative routes of initial funding to make my business a success.
I am producing canvas prints from photographs. I do this from people's own photographs or from my own archive of Liverpool City photographs. I also produce postcard style photographs from my archive photographs which are sold to collectors and tourists.
What are your future plans?
I will open a gallery based shop and employ people to serve the customers. I will open a factory to deal with mass production of the postcard photographs. I will produce a range of greetings cards for people to send to ex pats.
What advice would you offer to any other young people starting their own enterprise?
If you've got an idea then do it. Believe in yourself and also know that there isn't a specific personality type to be successful in business.
Any feedback on the help from your Striding Out coach?
My coach was wonderful because she helped me realise that I can become self sufficient and successful. She helped me see how I could achieve my goals and dreams.