SquidLondon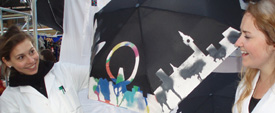 Emma-Jayne Parkes and Viviane C. Jaeger, Co-Founders of Squid London
SquidLondon is a forward thinking design team paving the way in future material technology.
SquidLondon is an exciting venture consisting of two designers from the London College of Fashion.
To date they have been sponsored by one of the world largest ink companies, come runners up of the Deutsche Bank Award in Fashion and Textile and participated as a finalist in the Big Leap Competition run by Striding Out.
SquidLondon see themselves as linking the gap between technology, science and design producing unique and new projects and ideas.
SquidLondon is a new innovative business with its core passion in materials technology development. Distinctively merging technology, science and design to create never been seen before products. The first innovative limited collection, launched at Spitalfields Market sold within 11 days, comes in the form of an umbrella interacting with the rain, changing colour to create a walking piece of art. This is the first of many pipeline products waiting to break into the market.
In three years time the business strives to be a platform for creative collaborations with scientists and designers alike. SquidLondon will have a portfolio of successful collaborative projects and limited collections. Research and development into pipeline products will be well established and the name SquidLondon will be recognized as an innovative and specialist brand in the world of new technology and materials.
As a start-up the most valuable asset is to be surrounded by clever professionals, specialists and like minded entrepreneurs. Striding Out definitely created this atmosphere for the Striding Out BootCamp in March 09.

The support SquidLondon receives from Striding Out is incredible. One of the best experiences was The Big Leap BootCamp. It was loaded with practical advice which was immediately applied and every single contestant was fully motivated wanting to make the most of it. It was a professional, inspiring and fun atmosphere!

The contestants learnt, to name a few, how to set Google alerts to know when someone talks about your company, about SugarSink for backing up files, thinking about appropriate accountancy software's . Profit and Loss, cash flow spreadsheets, reading the 'Do your own PR' by Paula Gardener and practicing a 1min elevator pitch, now use being used for the ShellLiveWIRE Award 'Grand Ideas'.
VOTE FOR SQUID LONDON TO WIN THE GRAND IDEA COMPETITION HERE

As a result of this 4 days BootCamp, the Squidders decided to hire a freelance marketing manager to write and send out press releases for their new Squidarella collection, created a YouTube demonstration video which had over 6500 visits and have taken up training in Sales.

The contacts made from the BootCamp are still active and SquidLondon is ready to take the Big Leap - bring it on!