Friday, 24 February 2012 16:21
Striding Out is excited to announce a new fully funded support programme for young people aged 18-30 in Liverpool who are:-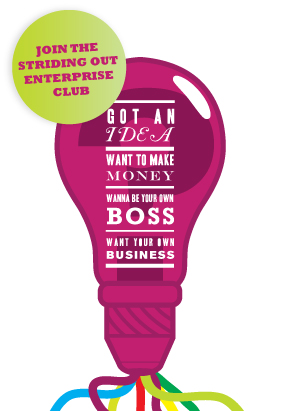 Exploring self employment as a career option
Already planning to start their own business
Are ready to launch their own business
Check out the Striding Out Enterprise Club offer below...
Start Up Funding

Striding Out can offer start-up funding of up to £2800 to young people aged 18-25 who are starting a business, which positively supports their their local community.
For example we have provided start-up funding to 1) a personal trainer to buy equipment who was running exercise sessions for disabled children and 2) a events organiser who is running events to showcase talented youth.
To access the funding your idea must match the above criteria and you should be ready to market test your business idea and/or start your business. You must also be eligible and ready to take up our Training and One to One Business Support Package detailed below.
Exploring Self Employment Course
A half day workshop to explore what running a business entails, the pro's and con's of self employment and how to assess the potential of your business idea. Find out more and register here
Business Start Up Course
A two day course covering all the essentials of planning your business, from market research, marketing, financial planning to leadership skills. Find out more and register here
One to One Business Support Package
We can offer a tailored 12hr one to one support package with a range of expert advisers to help skill you up and handle the many aspects of of starting a business. The support is focussed on young people who are ready to launch their business and other eligibility conditions do apply. If you are therefore interested in this support please click here to apply so we can assess your suitability and eligibility for the programme.
This new  support package is kindly funded and supported by