Monday, 05 July 2010 15:16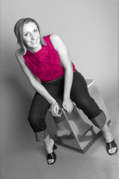 Heather Wilkinson, founder and MD of Striding Out, addressed ways to engage a young workforce at the CBI Annual Business Summit, held recently in London.
This year it focused on the burgeoning issue of how businesses lead their people post-recession. From a current economic standpoint, talks focused on three key factors New Employment Models, Employee Engagement and connecting with the Generation Y workforce.

Heather was invited to talk on the issues surrounding youth engagement. Formed in 2005 Striding Out has brought coaching into the mainstream to help young people achieve their real potential in their chosen career.
Striding Out has recently placed 400 young people into employment opportunities and is coaching them over a 6mth period to really help them achieve their potential in the workplace. Find out more here .

"What was promising to hear was how organisations, be it large or small, were holding on to the importance of staff development in cultivating and nurturing talent. In tough times, budget cuts are inevitable, and the challenge we all face is a leaner workforce that is expected to perform even harder. This boils down to equipping your most valuable resource – your people, to enable them to work smarter, says Heather.

Up-skilling the remnant workforce, after making lay-offs was reinforced over and over again by bosses at Microsoft, BSkyB, and Honda, attending the Summit. Many said they retained their training budgets and some put their teams on leadership training – to redefine their new working relationships with the kept workforce. 

But tapping into 18-24 year olds, or Generation Y as it was referred to at the summit, may give organisations of all sizes the opportunity to employ staff at a cost-busting level, even after taking into consideration training and development costs to bring that individual up to the required standards.

"The sooner that employers engage recruitment on different grounds, using new employment models, in working with the unemployed but passionate, the talented not just educated, the organically skilled – the sooner they will reap the benefits of a largely untapped resource of potential top performers – and see their businesses flourish organically, culturally and financially", added Jamie de Sousa, project manager at Striding Out.

For more information on Striding Out's services and how coaching has impacted real lives, organisations and communities, register for the free newsletter and sign up to our monthly networking events.