Monday, 12 July 2010 14:51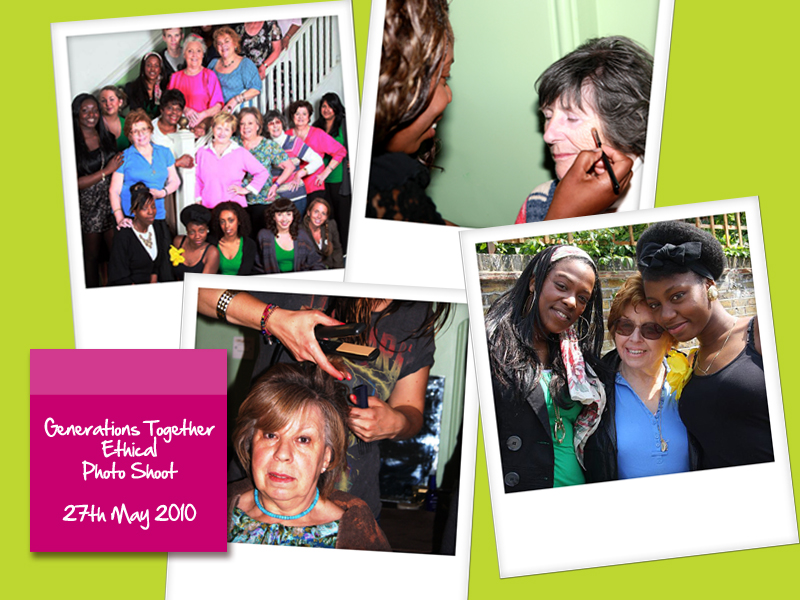 Striding Out is delivering the Generations Together Social Enterprise Programme in Hammersmith and Fulham.  The aim of the programme is to bring together young people aged under 25 with the over 50s and to engage them in social enterprise within the local area. To inspire this change we decided to arrange an Ethical Fashion Shoot to profile ethical fashion and beauty brands in the local area.
Here's a summary of the day's events...
"It's 9am on a relatively warm Thursday afternoon in May.  A stage is in the process of being set up for a photo shoot, and a batch of under 25s are preparing hair products and make up.  They are awaiting the arrival of 10 soon-to-be "glam grans".
As the over 50s start arriving, they are greeted by Striding Out staff and handed out tea and coffee.  Semhar Isak, the Generations Together Project Coordinator for Striding Out, briefs the ladies with an overview of the structure of the day. 

The ladies are divided into three groups and sent to the relevant styling stations.  All hair, makeup, clothing and accessories have been provided by local ethical companies and social enterprises from the Hammersmith and Fulham borough.

The process of today's event is to get the under 25s styling the over 50s.
Lupe Castro, a resident ethical stylist is working hard with her team on dressing the ladies with local clothing.  Jewellery is supplied by Just Trade, eel skin leather handbags by BoBelle London and vegan shoes by Bourgeois Bohème.

Hair stylists and products are supplied by Aveda and Gina Conway Salons, and makeup is provided by Elysambre.

The morning is spent on styling.  The ladies complete their makeovers by 12.30 and take a break for an organic lunch provided by Chellies Sandwich Shop.  They are then given talks by a representative from each brand as well as a talk from Striding Out's Generations Together Business Coach, Quinn Simpson.

After lunch is when the fun really kicks off.  Each lady is given a touch up before heading onto the stage to kick of their magazine style photo shoot with The Light Studio photographers, Francesca and Beth. The day ends with a group photograph session, bringing the under 25s together with the over 50s. The ladies with overjoyed with the day and the results achieved. "
Article by Shakira Fernando