Monday, 18 July 2011 10:57
The proof that your business is the best
If you believe your business is worthy of the very highest recognition, now is the time to enter The Queen's Awards for Enterprise. As the UK's most prestigious and coveted business awards, they are only awarded to the best companies as proof of their corporate success.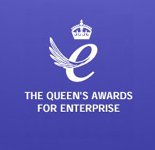 Enter now for free
There are three categories: International Trade, Innovation and Sustainable Development. The application process for all three is meticulous and the judging is rigorous, so only the best should consider applying. If you believe that's you, then enter online for free and if you have any queries, call our helpline on 020 7215 6880.
Winning benefits
If you are one of the winners, the benefits are great. First and foremost, there is the worldwide recognition among your peers that only this unique accolade can bring - and you will be able to display the Awards emblem for five years.
Winning can also lead to numerous press and PR opportunities, as well as increased staff morale - all of which can lead to a big boost in sales. Winners will also be invited to a reception at Buckingham Palace with Her Majesty The Queen.
So, start your application today. Entry is free, and
the deadline is 31st October 2011
.
You already know how your business has performed - so
enter online
now and you could soon have the proof that you're one of the best in your industry.