YouthWorks - London Youth

YouthWorks is a cutting edge project from London Youth, which trains a new generation of youth workers with a specialism in Youth Action.
YouthWorks full-time volunteers will volunteer for 6 months in a host youth club. During this time they will complete their Level 1 Foundation in Youth Work qualification and run a youth action project in their youth club. Participants will be trained in skills needed to help them facilitate a youth action project in their youth club. They will need to inspire 5 young people in their club to run a small project that benefits the club in some way. Young people will be able to access up to £2000 for these projects.
Striding Out has worked on the YouthWorks for the past 2 years to deliver our comprehensive youth leadership and peer to peer coaching programme over a course of 6 months. This comprises of regular monthly one to one coaching sessions and group coaching workshops where young people will be able to work on personal development issues such as increasing confidence, managing time and achieving goals. As well as this they will learn to mentor and coach each other and bring coaching skills into their Youth Clubs.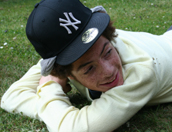 Personally I have got a lot out of the coaching sessions it has helped me become more confident and positive towards my future and it has enabled me to think about life in a different perspective. The coaching is helping me to plan ahead, and helped me commit to what I say. I feel that the sessions are a big help as they enable me to talk to my coach about my problems and fears and how I can overcome them which is very affective in my life as i would normally bottle them all up.
Warren Harrison-Weir (Youth Works Client 2009)