Gill Tate, Youth and Career Coach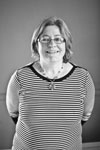 Expertise - Career Coach, Youth Coach and Women's Returner's, Heath and Well Being and Business and Finance.
Professional Profile
Gill has worked with a wide range of clients and is passionate about helping people reach their true potential. From a business perspective, Gill works with clients to help them reach decisions on whether to start their own businesses, and her own experience of setting up both a book keeping an electrical business allows her to share he skills and experience of running a successful enterprise.
As a Career Coach, Gill has done extensive work with womens returners, women who face life changing decisions as well as supporting and enabling students of all ages to secure employment, education and training opportunities.
Professional Reputation
Gill spent many years working for the Connexions Service, giving information, advice and guidance in schools and an FE college, through 1-1 interviews and group work.
As part of the "Follow my Leader" Project delivered in the North, Gill managed and coached a group of young people taking the first steps on starting their own business.
Gill has also worked with young people, adults and their families, with learning difficulties and disabilities and specialised in communication, advocacy and giving intensive support to this group of clients. Gill has also coached young people with behavioural and generic issues, and has been trained in counselling, child protection, self harm and other areas affecting young people.
Professional Qualifications
Edexel Certificate in Life Coaching Skills - Newcastle College

Introduction to Life Coaching - The Coaching Academy

BTEC HNC National Business and Finance - University of Northumbria
Education
BSC (hons) Degree in Human Organisations - 2:1
Diploma in Careers Guidance part 1