Awards
Striding Out recognised as a Flagship Network Model by Enterprise Insight
Striding Out provides flexible, tailored and high quality support for young entrepreneurs and Enterprise Insight has endorsed Striding Out as an example of best practice' Jo Hill, Enterprise Networks Manager, Enterprise Insight
Enterprise Insight runs the Make Your Mark campaign http://www.makeyourmark.org.uk/ that aims to inspire young people in their teens and twenties to turn their own ideas into reality. We will be working with Striding Out to promote their model in our five campaign hub areas Lowestoft, Liverpool, Coventry, Wakefield and Teeside.
Striding Out awarded the David Nicholas Award for Best Business Start-Up.
These awards are in memory of Professor David Nicholas. David was a brilliant innovator who pioneered The Virtual Company concept. While working for Business Link Wessex he increased the national inventor / start-up conversation rate for turning incredible ideas into credible businesses by a factor of six. David was awarded an MBE for this pioneering work. He became a visiting Professor at Kingston University and worked as the Principal TVC Facilitator until his death.
Winner of the Social Enterprise Mentor of the Year Award 2006

Nominated by Social Enterprise London - Allison Ogden-Newton, Chief Executive of Social Enterprise London and a judge of the Edge Upstarts 2006 awards said, "Heather is fantastically inspiring and continues to amaze me with her energy and insight."
The Edge Upstarts Awards encourages and rewards extraordinary vision, ethical business practice and social responsibility. They aim to showcase businesses that offer innovative and sustainable solutions to social problems. Supported by practical learning foundation Edge and the New Statesman, this year's Edge Upstarts Awards focus on the people and training that drive the social enterprise sector.
Finalist in the Community Impact Category in the Start-Ups Award 2006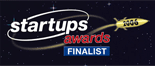 The Community Impact Award, acknowledges businesses who have made a positive contribution to the local community
in which it's based. http://www.startupsawards.co.uk/
Level 1 UnLtd Award 2005
Striding Out received a Level 1 UnLtd Award in June 2005 for its contribution to the local young entrepreneurial community.
Striding Out is a social enterprise, which will invest its profit back into supporting its target beneficiaries.