Lynda Robinson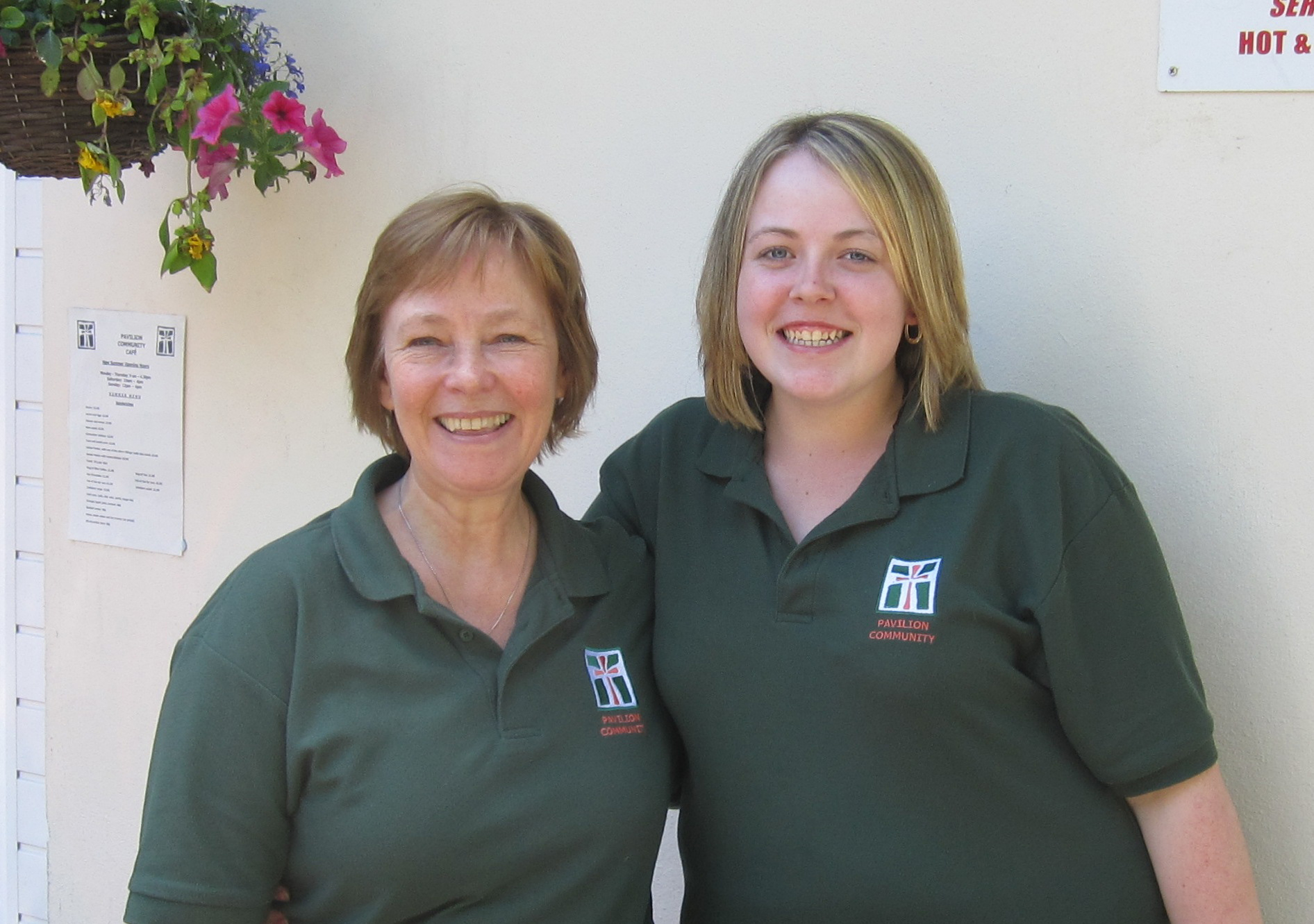 Lynda Robinson, Rowheath Pavillion
Lynda has employed 5 staff through the Future Jobs Fund. Here she is with one of these staff, Clare.
Rowheath Pavillion is a community centre that hosts day time community groups ranging from groups for young parents, dance groups, exercise classes to football training and all age drama groups.  We host a range of functions at the weekends including weddings, christenings, children's parties, funeral wakes and a church.  We hold a license to conduct weddings. We host community groups in the evenings such as Police Tasking Meetings, local PTA groups and neighbourhood watch.  We run a 35 seater café that is open 5 days a week and we employ a part time Café Supervisor. We have a changing room facilities for the regular football teams that play in our grounds.  We provide office  space/host a charity called Springdale; Together in Mission.  We host small training events for 15 – 20 people in our training room.  We run a full bar facility for community groups, the general public and weekend functions. We hold community events in the café including Open Mic Nights, women's groups and youth nights.
Lynda as the Community Liaison Manager, has a team of 21 including 5 striding out young people and 2 "in training" young people. This also includes community and church volunteers working in the café.  As an organisation they have been involved in providing work placements for young people before, a couple of 14 yr old boys this year and a girl last year.
Through one of the Striding Out coaches Rosalyn Clare, Lynda heard about the Future Jobs Fund scheme and used the scheme to employ 2 as café assistants, 1 as a caretaker and 2 in administration.
Lynda felt it was overall very positive. In fact, so positive that she has decided to keep one of the young people on in a part time capacity on for at least another two months. Three out of the five employees have been outstanding in many areas including abilities to deal with the public effectively, following instructions, been willing to learn and adapt and demonstrated that they have the skills needed for full time employment. Two of them have struggled with the roles, mainly in the area of motivation which has affected their performance.  On reflection both of these employees have not been placed in an area of work that is a good job fit for them, something which the organisation feel they can take responsibility for and can learn from.
"It would have been very difficult to operate the café for as many hours as we do without the Striding Out employees. They have proved invaluable. Their presence has meant that the café turnover has been able to increase.  The administrative role has also meant that, as the team leader, I have been able to hand over many of the day to day duties which has left me free to concentrate on other areas of the job.  Having extra help in the office has also meant that the office is fully staffed and this in itself has had led to more definite bookings. In the past it was difficult to keep up with the number of phone calls and emails.  Whilst the administrator has been in post we commissioned the design of a new website. She has learned wordpress and can now keep  our website fully up to date. Our community events are now regularly advertised and we now receive on line bookings.  Again, this has helped to generate more bookings and increase the "footfall" of the community engagement with the café," Lynda reflects.
Rowheath interviewed a total of seven people and recruited five. All employees are progressing well. Three out of the five finish in two weeks time. One staff member finishes in December, the other we are keeping on until Christmas with a planned review to see if finances will allow us to keep them on for longer. During their placements, the Future Jobs Fund staff also receive one-to-one coaching. The coaching is "confidential" but from what Lynda has heard back, the sessions have been really useful. 
Lynda will definitely take on employees through this scheme again. " An excellent scheme that gives young people a chance to move forward not only with careers but with their lives.  It builds confidence, skills and, most importantly gives them hope", she says.
For more information on the Future Jobs Fund, career coaching or work placements contact Striding Out on 0845 452 4085 or email This e-mail address is being protected from spambots. You need JavaScript enabled to view it