6 ways to stimulate growth
6 Ways to Stimulate Growth:  Marketing Strategy for a Recession
It's a challenging time for businesses - with all of them needing to squeeze every last drop out of their marketing strategy to ensure the continued well being of their organisation. Read on to see some tips of how you can actually stimulate growth in a recession.
1: Avoid The tendency To Cut Prices To Attract Business
In times of recession the tendency is to reduce spending and limit risks.  People with limited budgets are even more cautious, so how can you convey value and reduce risks to clients?
One key strategy is to steer your business towards those clients that won't feel the recession. You might want to use a 'Credit Crunch' angle for specific promotional strategies – however – do not use the strategy of cutting prices as your only way out.
2: Keep staff in the loop
If you have staff, then it's very likely that they too, will also be worried about the current economic situation. Be open and honest with them. If your employees are seeing cutbacks, redundancies – then naturally they will only think the worse. i.e. who's next?! You need to educate them.
Your staff can help you turn this around, but not if they are subjected to a stream of negativity both inside and outside of your office. Explain the current situation your business is and ask for ideas. You need to maintain a culture of optimism. It's not just your customers who need reassurance, your staff does too.
3: Don't Sweep Worries Under The Carpets
There is a strong tendency, to feel that if we ignore things 'they will go away'.  The reality is not so. You need to look at your business, critically, and examine every aspect of it. Try to fire-up and market what you 'do brilliantly'. You can't drive your business from the passenger seat. Yet, many businesses are simply run like this, reactive as opposed to being proactive.
Do not rely on the government or others to help out. There is one and only one area of the business you can ultimately affect and control: your reaction and the action you take. So appreciate that the outlook may not be great, and then plan ahead. Don't wait for that light at the end of the tunnel, because you are not controlling the switch.
4: Invest in staff and the process
If you're not achieving your sales targets you need to change your approach. If it's not working, doing more of it will produce the same results! Increasing the activity of your staff is not always the answer. Instead focus on coaching your staff. Maybe even coach yourself!  Always look to invest in both you and your staff. It is a strategy that, regardless of the economic climate, plays a major role in the ongoing development of your business.
If the business is underperforming, then the greatest risk to the company is your failure to market your business effectively: so invest in this process.
Further, examine every part of the "prospect to client" process – from a lead to a 'sale'. Essentially the sales process involves six key stages, as follows:
Prospecting

Initial Contact

Sales Presentation

Handling Objections

Closing the Sale

Follow-Up and Service after the Sale
Which of the above steps would you admit to underperforming in – and what do you need to do, from today, to improve?  Give greater thought and practice to generating qualified and quality-based leads: your business will be better placed for long term survival if you do this.
5: Do Not Cut Back On Your Marketing – Instead – Cut Back On Ineffective Marketing
You need to practice the art of direct marketing; building a one-to-one relationship with your prospect by communicating with them directly, in a compelling and persuasive manner.
You need to know what is working for you and what is not:
 Cut out any pretty, "institutionalised" advertising.

 Cut out any advertising that you cannot measure the results of.

 Create a reaction first and then awareness.
6: Work Smarter Not Harder
One of the most profitable ways to grow your business is by encouraging the client to buy more from you. However, many business owners will simply keep on trying to market their products or services to new customers. This requires a lot of time, effort and most of all... money. Instead, go back to your existing client base with something new, or a new variation of an existing product or service.  You already have a relationship with these clients, there is already a 'dialogue' going on, so profit from this!
The second part of this strategy is of particular importance, depending on the business you're in. That this; if your business cannot fundamentally continue to trade profitably under its current model then you may need to change things, and tap into a different market – or – tap into the same market, but through a different medium.
Focus on the kinds of additional products or services you can offer an existing client, who already values you. Or similarly re-assess what you offer, and see how you can re-position what you do, and make it more marketable. Talk to a Striding Out coach to see how you can make the most of your marketing spend!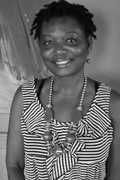 This article is written by Maureen Clarke, Business & Youth Coach, Striding Out.
Need help?
Our successful team of coaches each specialise in different aspects of business. Get a coach today! Find out more about our business coaching services or email us at coaching@stridingout.co.uk to arrange a chat with one of our coaches.